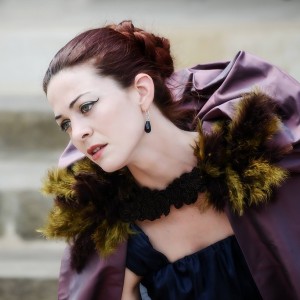 Laila Cathleen Neuman
Sopraan
Biografie
Laila Cathleen Neuman started her studies in the Netherlands with Christa Pfeiler and Susanna Waleson, before studying at the Conservatorio Giuseppe Verdi in Milan, with Rosina Crosatti and Margaret Hayward, where she completed her bachelors cum laude. After this she received an Erasmus scholarship to study with Breda Zakotnik and Barbara Bonney, at the Mozarteum in Salzburg, where she obtained her master's degree in Lied and Oratorio with honors.
She participated in masterclasses with Dalton Baldwin, Max van Egmond, Johannette Zomer, Trevor Pinnock, Angelika Kirschlager and Deda Cristina Colonna. She has taken a special interest in baroque music, baroque dance and the art of historic gesture, for which she has been working with Margit Legler en Reinhold Kubik. She sang her debut as Second woman in Purcell's 'Dido and Aeneas' in Milano, Italy, the leading role as Melpomene in 'Il Parnaso Confuso', and the role of Atalanta in 'La Corona', both by Gluck, in productions of the Mozart Opern Institut Salzburg, directed by Josef Wallnig in Salzburg and Vienna. This September she will be singing the leading role in 'Didone Abbandonata' by domenico Sarri in Poland and Czech Republic.
Recent international concerts in the oratorio repertoire include Bach's Weihnachts Oratorium, Johannes Passion, Matthäus Passion, Stabat Mater by L. Boccherini and G.B. Pergolesi, in collaborations with Ensemble Esprit directed by Jan Hulst, and Henk van Zonneveld, Musica Florea, Ensemble La Silva, Het Philadelphus Ensemble (members of the Concertgebouw Orchestra) and
Convivio d'Arte. Her latest recitals with were in collaboration with Jan Cizmar- theorbo and lute, and Jean-Sébastien Beauvais- countertenor, in the Netherlands and in Czech Republic as part of the Concentus Moraviae Festival.
Her repertoire goes from renaissance to contemporary music, and contains chamber music as well as oratorio and opera.