Vrijdagmiddagconcert – An afternoon with Bach & Biber
vrijdag 20 mei 2016 14:30-15:15 uur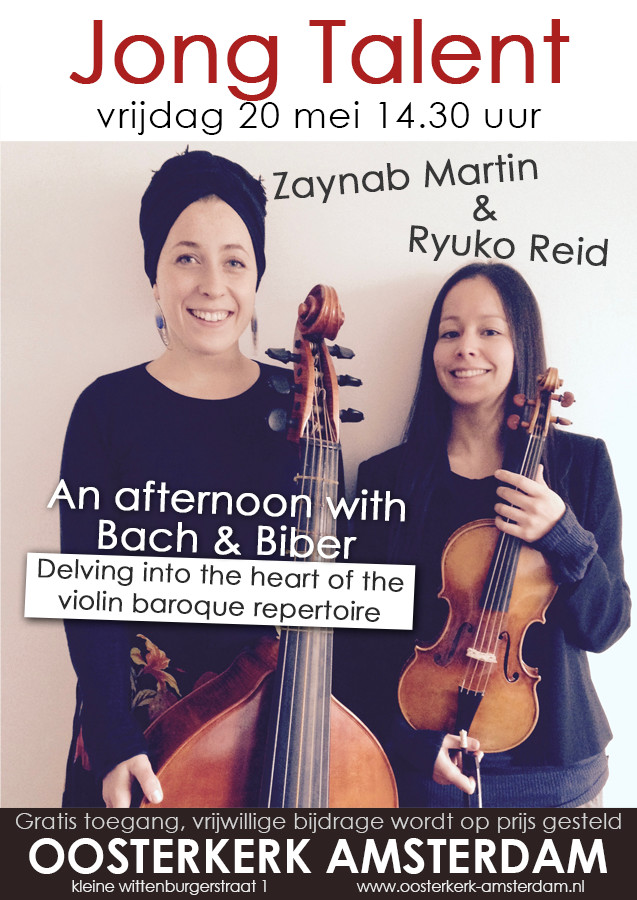 An afternoon with Bach & Biber
Delving into the heart of the violin baroque repertoire
Johann Sebastian Bach (1685-1750)
Sonata No. 2 in A minor for Solo Violin BWV 1003
Grave-Fuga-Andante-Allegro
The Sonata No. 2 in A minor begins with a solemn Grave movement. In this sombre
opening, the melodic lines are lyrical yet highly ornamented. The last two and a half bars
serve as a bridge to the next movement, the Fuga. The first nine notes of the fugue are
the basis for the entire movement, each voice in turn taking a leadership role. The
movement is a continuous ten minutes that ends with the need for peace provided by
the third movement, Andante. There are two clear voices; an aria-esc melody and the
accompanying repeated quavers. The following Allegro movement, furious and fast, to
breaks the spell.
Heinrich Ignaz Franz von Biber (1644-1704)
Sonata V in E minor C142
This sonata is a single movement work with contrasting sections. These sections
recognisable especially when listening the repeated bassline from the violone. It begins
with a free flowing prelude where the violin plays seemingly improvised flourishes over
long held notes in the bass. What follows is much like a theme and variation with the
Adagios themes often being in the style of a small opera aria. The violin then embarks on
a series of elaborate reinterpretations of the simple melody.
Ryuko Reid performs throughout Europe as a freelance baroque violinist. She is the artist director and leader of Amsterdam Corelli Collective and also guest leader of baroque ensemble Eik en Linda. Ryuko works as a violin teacher in Muziekschool Amstelveen and organises annual workshops inspired by Kodaly and Dalcroze methods. She came to study baroque violin with Sophie Gent at Conservatorium van Amsterdam and is now currently finishing her masters at Koninklijk Conservatorium, with Kati Debretzeni and Walter Reiter. Before moving to Amsterdam, she studied the modern violin with Jan Repko and the late Peter Cropper in Manchester.
Zaynab Martin performs throughout Europe as a freelance double bassist and violone player, specialised in historically informed performance practice. Based in Amsterdam, Zaynab is principal double bassist of Amsterdam Corelli Collective and Ensemble 't Kabinet. Before moving to Amsterdam, Zaynab studied modern orchestral and solo double bass for five years at the Guildhall School of Music and Drama in London. In 2011 Zaynab moved to Holland to study with Maggie Urquhart at the Conservatory of Amsterdam. In 2012 she played as principle double bassist in the European Union Baroque Orchestra, and in 2014 she took part in the Orchestra of the Age of Enlightenment's Ann and Peter Law OAE Experience scheme in London.